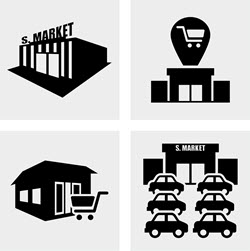 A few weeks ago, I wrote about the benefits of retail sales data for CPG manufacturers.  And I summarized the four types of retail sales data which are formed by a combination of two parameters: data source (syndicated vs. retailer direct) and data focus (store vs. shopper).  In this post, I'll discuss data source in detail, describing the positives and negatives of both retailer direct and syndicated (aka Nielsen/IRI) data. Retail sales data can come either direct from the retailer (reflecting only sales for that retailer) or through a third-party syndicated provider (who pools data from many retailers to create a picture of the total market).
Retailer Direct Data
As you might guess, retailer direct data focuses on your products in a single retailer. It won't tell you anything about competing stores. And often you won't get information on any competing products, only your own items and maybe some category totals.
If you want to dig into the details of doing business with a particular retailer and build a stronger collaboration, then retailer direct sales data is a great place to start. Retailer direct data allows you to look at a retailer's data their way and that's valuable. But it's not as good at giving you an overall picture of your business. If the retailer is big and geographically dispersed you may glean some general learnings from the data. But if general learnings are your primary objective, or you want to easily compare across retailers, then you need to use syndicated market data instead.
The best example of retailer direct data is Walmart's Retail Link system, which is an entire data ecosystem available to all of Walmart's vendors. Many other retailers provide data through data portals or other delivery mechanisms. Some retailers provide data to their suppliers that is really focused on supply chain and logistics with less emphasis on retail store sales. The format and scope of retailer data varies widely and every retailer can easily be a whole data project until itself. There are software and consulting companies that specialize in helping manufacturers manage all their different streams of retail data.
Some retailers even outsource data management and delivery to a third party! Kroger and Ahold are two big retailers who have taken this route. Even though the data is technically coming from a third-party and not the retailer itself, it's still not the same as syndicated data.
Sometimes direct retailer data is provided for free, such as Walmart's Retail Link. In other cases, the retailer or provider will charge for data access. The cost of the data largely depends on what's provided and the strategic objectives of the retailer.
Retailer direct data may be available for some products and channels that aren't covered by the syndicated data vendors. In some cases, retailer direct data may be your only data option.
Syndicated Data
Syndicated data is the primary subject of this blog. This third-party data covers the full landscape of brick and mortar shopper choices, from stores to products. It can include and aggregate all stores (well, almost all stores) in a geographic market or channel and capture all products in most major categories. You can see how your competitors are selling, analyze adjacent categories, and even look at sales trends for products with certain characteristics (e.g. everything that is gluten-free). Because it provides a complete picture of the market, it's sometimes referred to as "market data".
Nielsen, IRI, and SPINS are the primary providers of syndicated market data for the CPG industry. Any manufacturer can purchase their data and retailers typically receive analytical support in exchange for sharing their data with the providers. IRI and Nielsen cover Food, Drug, Mass, Club, Military, Convenience and Dollar channels. SPINS specializes in the Natural Grocery and Specialty Gourmet channels and Natural and organic products in the Conventional Grocery channel (through a partnership with IRI).
Unfortunately a few big retailers don't cooperate with IRI/Nielsen and SPINS, such as Whole Foods, Aldi, Trader Joes, and Dollar Tree. Costco provides some data but only through IRI and the data is limited. IRI/Nielsen and SPINS use statistical projection and a variety of sources to account for the "missing" retailers in market level and national aggregates. NOTE:  The list of non-cooperating vendors can change at any time, so don't hold us to it! Ask the vendors for precise, current information on cooperating retailers.
Even though syndicated data vendors capture every product that scans in these stores, they don't organize and process the data for every category. If there is no client willing to pay for the data, the vendors are much less likely to invest the time and money necessary.  They're also less likely to cover slow-moving categories, general merchandise categories in grocery, and home and garden categories in the mass merchandisers. If you want to find out if your product is covered, call the vendors and ask! They will be happy to help you figure it out.
Syndicated data generally requires a significant dollar investment. Nielsen and IRI both publish category trend information in white papers and webinars at no cost. You may also find good information in trade publications or even the general press. But if you want a detailed analysis of your category, in your key market, for a particular time period, then you'll have to pay for it. Costs range from a couple of thousand dollars for a single report to millions of dollars a year for ongoing subscriptions that include data analysis software tools.
I went to touch on one data source that doesn't fit neatly into either side of this syndicated vs. retailer direct dichotomy: Kroger data from dunnhumby. Though it is only Kroger, the individual Kroger banners are so numerous, varied, and geographically dispersed that it can give you a much more general perspective on sales than data from most single retailers. In addition, reports and analysis are available that will give you a full perspective on the category and competitors. The dunnhumby offerings closely mirror the type of information available from Nielsen and IRI. So while I would put in on the Retailer Direct side, since it's not covering the full market, but it's nudging over towards Syndicated.
Convinced you need syndicated data but need help taking the next step? Contact us for a free 30 minute consultation.  We can help you move your syndicated data project forward.
Did you find this article useful? Subscribe to CPG Data Tip Sheet to get future posts delivered to your email in-box. We publish articles once or twice a month. We won't share your email address with anyone.