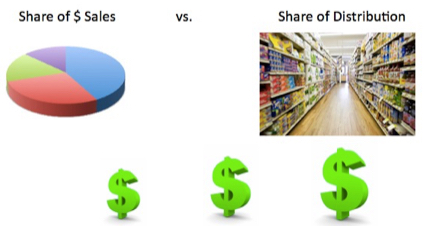 In a previous post, I explained the concept of "fair share of distribution" and how you can determine if your brand is getting the distribution it deserves.
Now I'll show you how to quantify the size of that opportunity, for both your brand and the category, if you are getting less than your fair share.  Let's use the dataset below.  To keep things simple we'll assume that these are the only 2 brands in the category.  (If you aren't familiar with the measures TDP and Sales per TDP, you may want to review those before continuing.  Those measures will be used in the example below.)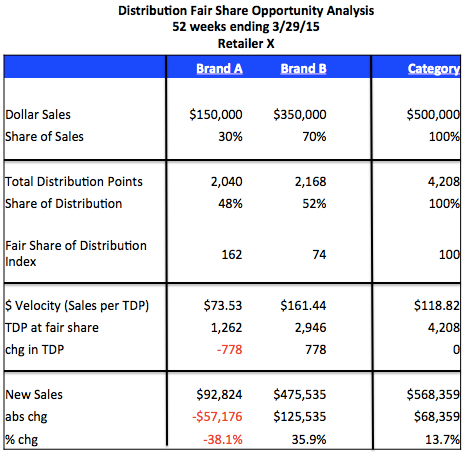 Key takeaways:
Brand B is not getting its fair share of distribution since it has 70% of the dollar sales but only 52% of the TDPs. This works out to be a fair share index of only 74 (= 52 / 70 * 100). Remember that if the index is under 100 (like this one is), then there is an opportunity to convince the retailer that you deserve more distribution.
Brand B has a higher

velocity

than Brand A, $161.44 vs. $73.53. (Sales per TDP is just what it sounds like: sales / TDPs. This is $350,000 / 2,168 = $161.44 for Brand B.)
Brand A has greater than its fair share of distribution, with an index of 162 (= 48 / 30 *100).
These 3 points taken together provide a great story for Brand B to gain/steal distribution from Brand A. This will increase Brand B sales by almost 36%, or over $125,000. Plus…category sales will increase by almost 14%, or over $68,000. (Unfortunately if you are Brand A in this scenario, you would lose distribution and sales would go down more than -38%.)
Here's how to calculate those opportunities for Brand B and the category:
Calculate what Brand B's TDPs should be at fair share. (We will assume that category distribution remains at 4,208 TDPs.) If Brand B has 70% of dollar sales then they should also have 70% of the category TDPs, so
0.70 * 4,208 = 2,946
Determine how many TDPs Brand B needs to get from Brand A to reach that fair share level, so
2,946 (fair share TDPs) – 2,168 (current TDPs) = 778
Calculate the dollar opportunity for Brand B as the additional TDPs * velocity per TDP, so
778 * $161.44 = $125,535
And the percent growth over current sales is
(new sales – current sales) / current sales = $125,535 / $350,000 = +35.9%
Calculate the dollar opportunity for the category as the difference in velocity per TDP between Brand B and Brand A * the number of TDPs that are changing from Brand A to Brand B:
($161.44 – $73.53) * 778 = $68,359
And the percent growth over current category sales is
+13.7% = $68,359 / $500,000
If you find that your brand is not getting its fair share of distribution and it has a higher velocity than a competitor, now you know how to use that information to convince a retailer to shift some distribution from that competitor to your brand.
Have other questions about how to quantify opportunities with specific retailers? Leave a Comment for this post and we will try to answer as best we can.
Did you find this article useful?  Subscribe to CPG Data Tip Sheet to get future posts delivered to your email in-box. We publish articles about once a month. We will not share your email address with anyone.