Trade spending is a huge/the biggest item in the budget for [almost] all consumer packaged goods brands.  As explained in this previous post, all those trade dollars go towards reducing your retail price and, sometimes, gaining feature and/or display support.  But how do you know the real price that shoppers are paying for your product during those promotion weeks?  Are you getting the price points you expected and paid for?
Your IRI/Nielsen data can shed light on promoted pricing by separating regular price from promoted price.  In addition, you can see promoted price under different merchandising conditions such as with and without a display.  In this post, I'll share some best practices for looking at promoted pricing.
Before diving in to analyze promoted pricing, you may want to review this post about retail pricing in general, this one about base price and this one about price per unit vs. price per volume.  (Throughout this post, we'll be looking at price per unit at the PPG level, since that is what shoppers are seeing at shelf and also how manufacturers usually talk about and analyze their promotions.)
Look at the Right Channels/Retailers
Make sure you are looking at channels and retailers where trade promotions tend to include a short-term change in the shelf price. Both IRI and Nielsen have rules about when a product's lowered price is no longer a promotion, but becomes the new base price.  (It's 7 weeks for IRI and 8 weeks for Nielsen.)  This makes sense since shoppers who see the same [lower] price for several weeks in a row for a product probably no longer think of that lower price as a special deal.
Take a look at the average, base and promoted prices for Walmart and the Food channel for Mollie's Muffins 6-Count: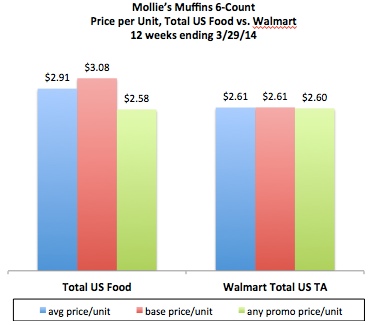 You can clearly see the higher base price and lower promoted price in the Food channel while the average, base and promoted prices are basically the same at Walmart.  This has to do with the types of promotions that Walmart runs and how IRI/Nielsen counts them. For the vast majority of products, it makes sense to only look at Average Price for Walmart.  Most of the promotions at Walmart either run for 13 weeks or more (and become the base price) or are essentially feature ads at the full price.
Look Deeper Than Promoted Price
Just as Average Price can be thought of as a weighted average of Base Price and Promoted Price, Promoted Price is itself made up of the price when your product is getting Quality support (feature and/or display) and when it's only getting a price cut (TPR, or temporary price reduction), without any feature or display.  The Quality price is almost always lower than the TPR price – that's how you get into the feature or get put on display, by giving the retailer a good incentive to support your product and the shoppers a good incentive to buy it.  In this example, the Promoted Price is $2.58 but the TPR price (with just a shelf-talker to alert shoppers about the promotion) is $2.62 while the Quality price is $2.22.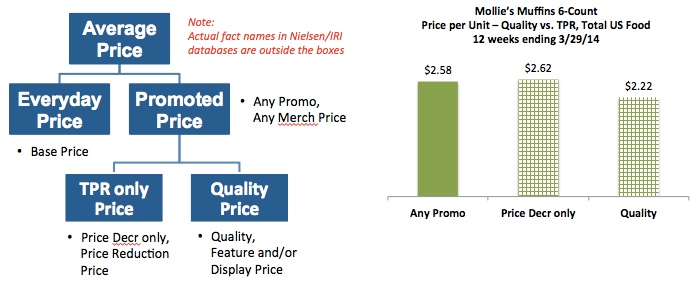 You can also dive deeper into the specific Quality merchandising tactics to see how pricing differs between them.  The best tactic, Feature & Display, always has a lower price than either Display or Feature alone.  The Display only price tends to be higher than the Feature only price because some retailers display products at the full price, typically in the week following a feature in order to sell through remaining inventories.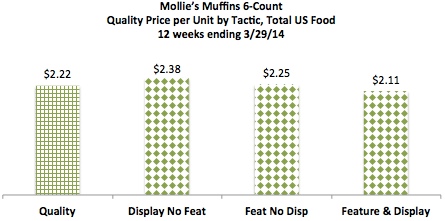 Look at Specific Retailers
Even though you have a national strategy that includes specific price points that you want retailers to hit, each retailer has its own pricing strategy and may or may not price your product at your suggested price points. In this fictitious example, you can see that
Public Foods has much lower overall promoted prices than Great Value Grocery, mostly driven by Great Value's relatively high TPR price
Pricing at the two retailers (and in the Food channel) is very similar when Mollie's is on Display
Quality price is lower than TPR only price and Feature & Display price is lower than either of those tactics alone for both retailers.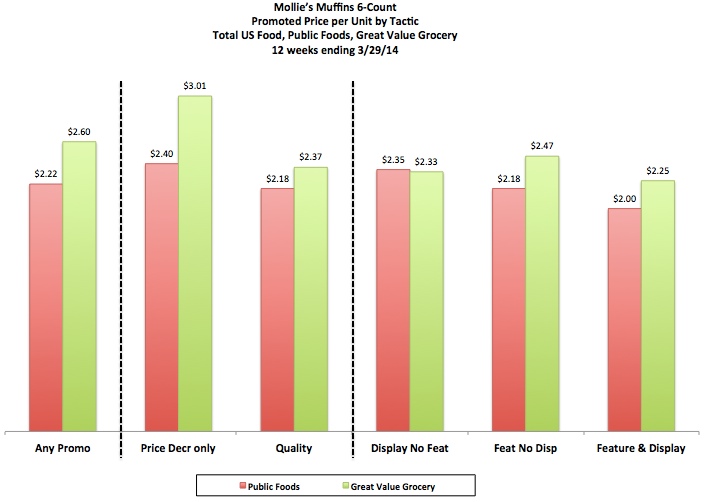 So…what have we learned from this?
It is most useful to look at promoted pricing for channels and retailers that tend to run short-term promotions with price cuts.  This means typically NOT Walmart.
If your product gets any Feature or Display activity, make sure to look at your price when you are getting that Quality support and then when you are just getting TPRs.
Promoted pricing at the national level is useful when developing an overall pricing strategy but of limited value to understanding what's really happening in the marketplace.  You'll usually look at merchandising and promoted pricing at the retailer level in order to identify truly actionable insights.
How do you look at promoted pricing?  Is it different than what I've talked about?  If you have other questions about how to look at pricing with your IRI/Nielsen data, please Contact us for a free 30-minute consultation or leave a Comment for this post.
Did you find this article useful? Subscribe to CPG Data Tip Sheet to get future posts delivered to your email in-box. We publish articles twice a month. We will not share your email address with anyone.