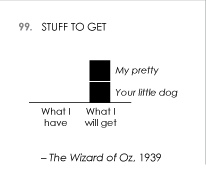 Here's something fun that I came across this week, as movies were in the news due to the announcement of Oscar nominations:
Click here to see Famous Movie Quotes as Charts, from the website Flowingdata.com (January 16, 2014).  Note the wide variety of graph types used!
This shows that you don't have to have numerical data in order to show something in a graph.
My favorites (among all 100 of them) are:  all in the first row (1-7), 15, 29, 33, 42, 44, 50, 79, 98, 99
Which ones do you like?  Please let me know in a Comment below!