There may be an opportunity to increase sales at some retail customers by making sure that you are getting your fair share of distribution.  The basic concept is that if your brand has, say, a 25% share of category dollar sales then it should also have at least a 25% share of the category distribution.
I'm sure you already know how to calculate share of category dollar sales.  But how do you calculate your share of category distribution?  % ACV Distribution doesn't work – most categories and many large brands will have 100% ACV Distribution, so that measure doesn't differentiate well.  Instead, the best way to calculate share of distribution is to use Total Distribution Points or TDP.  I recently wrote a whole post about TDP's. In short, it's a sum of % ACV Distribution for each item in a category, segment or brand.
The calculation for Fair Share of Distribution is:
Fair share index = share of TDPs / share of dollar sales * 100
Sample Calculation
Brand Share of Category TDPs        12.8%
Brand Share of Category Dollars     15.0%
Fair Share of Distribution Index = 12.8 / 15.0 * 100 = 85
How to Use With A Retailer
If fair share index is < 100, then there is an opportunity for the retailer to increase your distribution by adding items or expanding to more stores, ideally at the expense of your competitor(s) who are receiving greater than their fair share of distribution (index > 100).  If your index is > 100, then there is, of course, no need to bring this to the attention of your retail customers!  If, based on the fair share index, you do have a case for increasing distribution, then you'll want to do additional analysis to figure out what specific changes should be made.
Take a look at this example.  Brand A should not share this with this retailer, while Brand B can use it to hopefully gain more distribution at the expense of Brand A.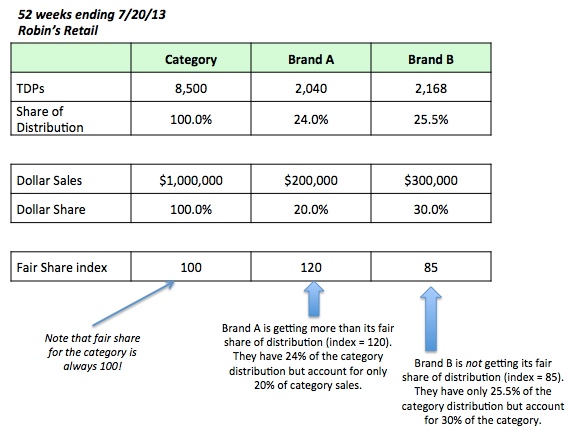 Fair Share can be used in many different ways – see another example here.
Did you find this article useful? Subscribe to CPG Data Tip Sheet to get future posts delivered to your email in-box. We publish articles twice a month. We will not share your email address with anyone.