If Average Items Carried (or Average Items Selling) is not available on your database, it is easy to calculate in Excel.  It is just the sum of % ACV Distribution of all the items divided by the % ACV Distribution of the brand.
Here is an example: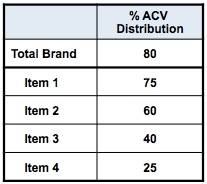 Say a brand is made up of 4 items, with % ACV Distribution as shown in the table above.
Avg Items Carried = (75 + 60 + 40 + 25) / 80 = 200/80 = 2.5
This means that, on average, retailers that carry the brand sell 2.5 of the 4 items that the brand offers.