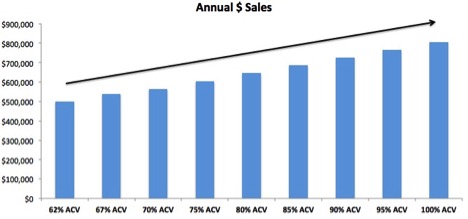 In this previous post I explained how to quantify the size of the opportunity for both your brand and the category if you are getting less than your fair share of distribution. This time I will show how to quantify the impact of getting your brand into more stores, regardless of your current share of distribution. Before continuing, you may want to review this information on %ACV Distribution.
Let's use the following data for this example: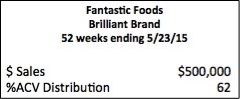 Brilliant Brand currently has annual sales of $500,000 in retailer Fantastic Foods. But…they are only in 62% distribution. We will calculate how much more Brilliant Brand could sell in Fantastic Foods for each additional point of distribution they can get. That way we'll be able to answer "how much more would be sold if the brand were in 70% distribution? 75%? 80? etc." Although Brilliant Brand would like to be in 100% distribution, it may not be realistic to get into every store so knowing how much they get for each point of distribution allows us to quantify the opportunity of getting any additional point of distribution.
They key to this analysis is to calculate the velocity (or pull it directly from the database if it is available there). Velocity tells you how well your product sells when it's available to consumers on the shelf. Read more about the measure here. For this analysis we will use $ sales per point if distribution (often abbreviated as "$ SPPD") as the velocity measure.   In our example $ SPPD is $8,065, calculated as follows:
$ SPPD velocity = $ Sales / %ACV Distribution, so
$500,000 / 62 = $8,065
For every point of ACV distribution at Fantastic Foods, Brilliant Brand sells $8,065.  (Note:  On average, you can assume that the brand will sell that same amount for each additional point of distribution.  If the distribution is already quite high – maybe 80% ACV or higher – you may want to use a somewhat lower velocity.  "Better" stores often take products earlier so the stores added later have lower velocity.)
Now we can use that velocity to understand the size of the opportunity as the brand reaches different levels of distribution.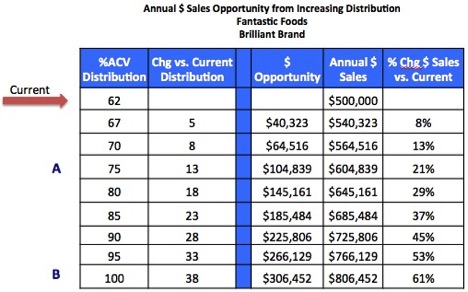 Looking at row A in the table above, the brand reaches 75% ACV Distribution. This is an increase of 13 points above the current distribution (75 – 62 = 13). An extra 13 points of distribution is worth almost $105,000 annually (13 * $8,065 = $104,839). And that is 21% higher than the current annual sales ($104,839 / $500,000 = 0.21 = 21%).
If Brilliant Brand can get to full distribution of 100% at Fantastic Foods (row B in the table above), the opportunity is over $300,000, a 61% increase over current annual sales. The improved annual sales are $806,452.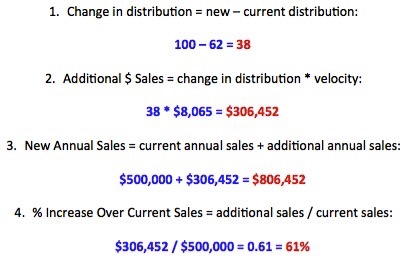 Now you can quantify the sales you are missing if your products are not in full distribution, either at the brand or item level and at a specific retail customer or across any channel or market. This analysis works for any product and any geography available in your database. Of course you'll need to convince the retailers that our brand deserves to be in more stores and that can be done by showing them you're your velocity is [hopefully] higher than the competition.
Did you find this article useful?  Subscribe to CPG Data Tip Sheet to get future posts delivered to your email in-box. We publish articles about once a month. We will not share your email address with anyone.