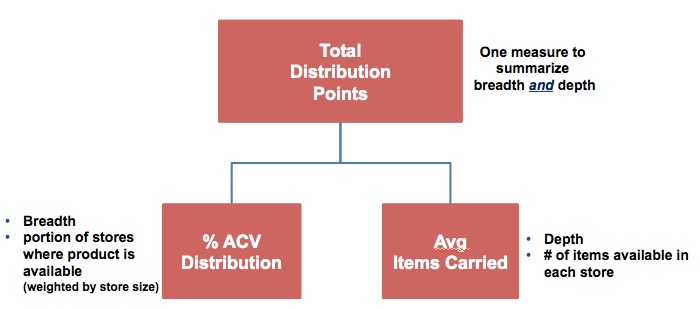 We have already discussed 2 key measures relating to distribution:  % ACV Distribution and Average Items Carried.  For product aggregations above the item level, % ACV Distribution provides a measure of distribution breadth and Average Items Carries covers depth. But what if you want to have one measure that summarizes distribution, taking into account both breadth and depth of distribution?  Total Distribution Points (TDP) is what you're looking for!  (Note that it is sometimes called Total Points of Distribution, or TPD.  I will refer to it as TDP throughout this post.)
Luckily, TDP is on most IRI/Nielsen databases, although it is very easy to calculate if necessary.  TDP is the sum of the % ACV Distribution of all items in a brand, segment, category or any other aggregation of products.  Here is an example of one brand's TDPs and how that relates to % ACV Distribution and Average Items Carried.  Let's assume that Brand A is made up of 4 items.  The table below shows the % ACV Distribution of the overall brand and each of its 4 individual items.  Brand TDPs = 200.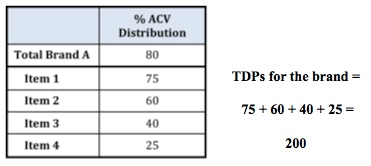 You can see that if a brand has more items and/or each of those items is in higher distribution, the TDPs go up.
Note that the brand % ACV is not used to determine TDPs.   TDPs are always calculated at the item level; including brand % ACV in your TDP calculation would be double counting.
For some products, TDPs and Average Items Carried will be redundant.  If your brand is in very high distribution (95% or more), then TDPs are essentially equivalent to Avg Items Carried – just move the decimal point over 2 places, as in this example:

Bottom Line:  When you need one measure to summarize distribution, use TDP.  It takes into account how widely your products are available and how many items are available.  If your brand is in almost total distribution, you can use either measure.  In my experience, Average Items Carried is the better one to use since your audience is likely to find it more intuitive.  It's easier to wrap your head around the number of items carried per store than a more abstract number like Total Distribution Points.
Have other questions about retail distribution measures?  Leave a comment below or or contact us and we'll do our best to answer it!
Did you find this article useful?  Subscribe to CPG Data Tip Sheet to get future posts delivered to your email in-box. We publish articles twice a month. We will not share your email address with anyone.