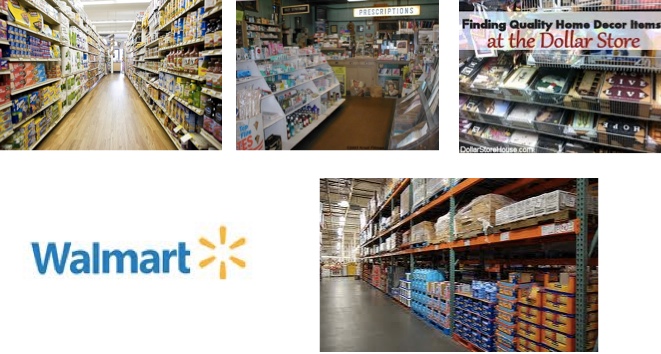 Are you confused by the terms "xAOC" or "MULO?"  Do you wonder what happened to FDMx?  (Do you even know what FDMx is?)  This post will clear things up for you!   These are the terms that IRI and Nielsen use for  their multi-channel markets.  These markets are designed to provide an estimate of sales across various retail outlets.
Before I reveal the secret meaning of MULO, here is some history.  Back in the dark ages (like 3 years ago in the world of syndicated POS data!), the largest national market available was an aggregate of Grocery, Drug and Mass Merchandiser stores excluding Walmart.  Manufacturers had to rely on other sources to get an idea of consumer sales, trends and share in channels like Walmart, Club Stores and Dollar Stores.  In 2012, Walmart decided to share their POS data and once again participate in the world of syndicated data (like they had back in the mid-1990s).  As a result of that, plus an improvement in the quality of scanner data from other channels, both IRI and Nielsen expanded their POS scanner data offerings.
Today the most commonly used national, cross-outlet markets are called xAOC (Nielsen) and MULO (IRI).  The Nielsen term xAOC stands for  eXtended All Outlet Combined and the IRI term MULO stands for MULti Outlet (and is typically pronounced "moo-loh").  You may also come across MULO C, which is IRI's Multi Outlet plus Convenience Stores.  FDMx stands for Food, Drug, Mass excluding Walmart and is a term still in use at IRI.  At Nielsen, they now use the term AOC for what used to be FDMx.  (Is your head spinning yet?)
The following chart shows you which channels are included in the various multi-outlet markets available from both of the syndicated data vendors.  Below that, see some notes on what is included in each channel.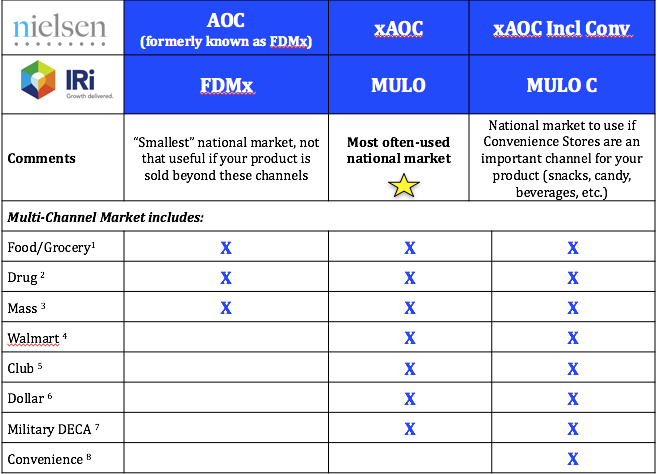 Includes stores with at least $2MM annual ACV.  Does NOT include Whole Foods, Trade Joe's or Aldi.


Includes stores with at least $1MM ACV

Does not include Walmart
Includes Division 1, Supercenters and Neighborhood Markets

Includes BJ's and Sam's but not Costco
Includes Dollar General, Family Dollar and Fred's Dollar, but not Dollar Tree

Includes about 120 commissaries

Includes sample of about 12,500 stores (out of about 140,000 total c-stores)
Still confused?  You're probably not alone.  Here are some footnotes from actual company presentations to Wall Street found on the Internet.  I'm sure there are many people who do not know what these mean, but now you do!
Source: IRI FDMx Post-MULO as of 18-Nov-2012
Source: Nielsen/ IRI, xAOC+C 52-Weeks 12/31/11
When should you use MULO and xAOC?  These mega-channel numbers are good for tracking dollar trends or sizing markets overall.  But they are not that useful for much else.  When you are looking at assortment, pricing and promotion evaluation, it is best to look at channel-specific data.  You can look at Food, Drug, Walmart, Military and Convenience Stores separately if you choose to have them in your database.  There are no channel totals for Club, Dollar or Mass.
Did you find this article useful? Subscribe to CPG Data Tip Sheet to get future posts delivered to your email in-box. We publish articles twice a month. We will not share your email address with anyone.