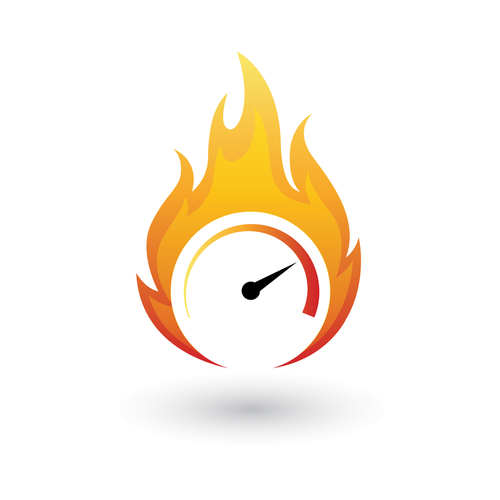 Velocity questions have dominated the CPG Data Tip Sheet inbox this month, with a number of readers posting comments or writing with questions about this important measure. So we decided it's time to turn our attention to what is, after all, the third most important measure in your database.
Why is velocity the #3 measure? Well, sales is #1 because that's your bottom line. You wouldn't buy data if it didn't include sales. And distribution ranks #2 because you can't have sales without distribution. Velocity (or "Sales Rate") ranks third in important because it captures everything other than distribution.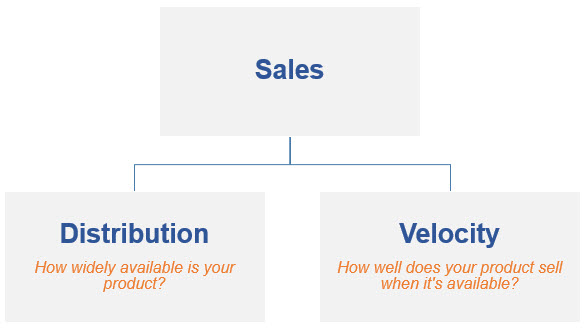 Velocity tells you how well your product sells when it's available to consumers on the shelf. When you combine velocity and distribution, you get retail sales.
In mathematical terms (and why not do some math? This is data class after all!):

I'm going to illustrate this concept with the simplest of examples: unit sales in a set number of stores. We don't recommend using this simplified measure (Units per Store) for real-world analysis, but it's great for getting a handle on the concept. (I'll talk about which measures we do recommend later in this post.)
Say there are two brands, both with sales of 3,000 units.  But the forces driving their sales differ. Product A has low distribution and high velocity. Product B has excellent distribution but weak velocity, relative to Product A.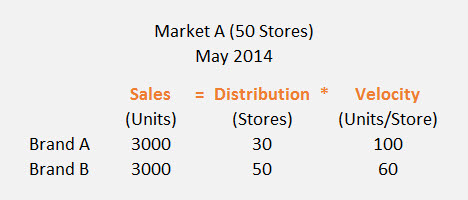 The difference between these measures influences the approach you would take to increase sales. Distribution is ultimately under the retailer's control. So for Product A, you would make a case with the retailer for greater distribution to increase sales. Velocity can reflect a variety of factors, many of which are under the manufacturer's control. So for Product B, your next step would be to dig in and assess the factors that impact velocity, such as price, promotion, variety or competitive factors, and then prioritize your marketing programs based on your findings.
Choosing the Right Velocity Measure
If you rearrange the sales equation, you can better understand the basic idea behind the many velocity measures in your Nielsen/IRI/SPINS database:

Every velocity measure contains sales in the numerator and distribution in the denominator.  The measure you choose will depend on whether you're comparing across different markets/retailers or are looking within a single market/retailer.
The two major velocity measures are:
Sales per Point of Distribution (SPPD)
Sales per Million (Sales per $MM ACV).
Companies occasionally use a third measure, Sales per Store.  This is the measure I used in my simple example above.   We don't recommend this measure because it it doesn't take into account differences in store sizes, which can can create biases in the velocity estimates.
Sales per Point of Distribution (SPPD)
Looking at velocity as Sales per Point of Distribution (SPPD) is the simplest, most intuitive choice for analyzing sales within a single market or single retailer. Also sometimes called "Sales per Point," this measure is an improvement over Sales per Store because it incorporates store size by using an ACV weighted distribution measure in the denominator. Like all velocity measures, SPPD can be expressed in dollars, units, or volume per point of distribution.

SPPD is commonly seen in ranking reports at the item level for an individual market, as in this example: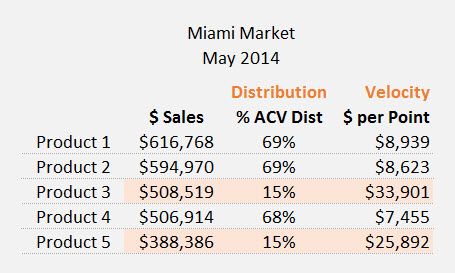 By breaking sales into distribution and velocity, we have divided these five products into two groups. One group has strong distribution and poor velocity (Product 1, 2, and 4) and the other group has poor distribution and strong velocity (Products 3 and 5). This is a great starting point for further investigation.
SPPD works at the retailer, market, channel or total U.S. level as long as there is only one market in your analysis. Don't use SPPD to compare across markets, channels, retailers or to compare a retailer to its remaining market  (ROM).
For velocity to matter, you need to have variation in distribution. When distribution is near 100% within a market, velocity and sales rankings will be almost the same, so you can limit your focus to sales. For example, in the table above, Products 1, 2, and 4 all have similar distribution. When we compare these three products, analyzing dollars and velocity will lead us to the same conclusion.
Sales Per Million (Sales Per $MM ACV)
When you're comparing across markets, SPPD is no longer a helpful measure. Instead, the best velocity measure for comparing across markets is Sales per Million. Sales per Million should be used when comparing a retailer to its remaining market, comparing across metro markets or census regions, and comparing one channel to another.
Why doesn't SPPD work when you are comparing across markets? Because a point of distribution in a big market will yield more sales than in a small market. For example, distribution in 75% of New York will generate way more sales than 75% distribution in Des Moines.  When you're looking across markets, not only can the % ACV differ but the actual ACV varies too.  So you need a velocity measure that reflects actual ACV, not % ACV.  That's what Sales per Million does.
Sales per Million is short for "sales per million dollars of market ACV," and is calculated with this formula:

Another way to think about it: For every million dollars of total market sales, X amount of my product is sold.
As you can imagine, market ACV is a really big number, which is why it's expressed in millions. It just makes it easier to work with.
As with the other velocity measures, Sales per Million can be expressed in units, dollars, or volume.
To illustrate, let's return to our earlier example, but here we want to compare Miami to Jacksonville. Miami is three times the size of Jacksonville. The raw sales numbers reflect that population difference and the velocity numbers do too. For example, look at Product 1: Dollars per Point of Distribution is much lower in Jacksonville than Miami.

So does the lower velocity in Jacksonville reflect weaker consumer demand or just a smaller playing field? To find out, we turn to Dollars per Million, which adjusts for the difference in market size by putting market ACV in the denominator. Now we can see that, controlling for market size, only Product 3 has a better sales rate in Miami. The rest of the items sell better in Jacksonville.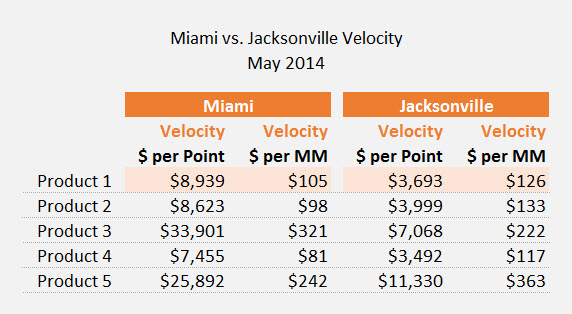 Using Sales per Million is key when comparing velocity across markets.  You can also use Sales per Million within a market, instead of SPPD. Some people prefer to use SPPD whenever they can because they find it easier to understand and/or communicate. Other people prefer to use Sales per Million in all their analyses so they are consistent in their velocity measure.
That's it for today's velocity class! Here are the top four points to remember:
The first step in understanding sales is to separate distribution and velocity.
Velocity is always some measure of sales divided by some measure of distribution.
When looking within one market (not across markets), you can use either Sales per Point of Distribution (SPPD) or Sales per Million (Sales per $MM ACV).
When looking across markets, use Sales per Million. Do not use SPPD.
Need help incorporating velocity into your analysis or presenting your sales rate findings to a non-expert audience? Contact us to learn more about our consulting services. We provide analytic support, hands-on analysis, and syndicated data training for individuals and groups.
Did you find this article useful? Subscribe to CPG Data Tip Sheet to get future posts delivered to your email in-box. We publish articles every 2-3 weeks. We will not share your email address with anyone.
Note: Data examples in this post were edited to eliminate reader confusion caused by spreadsheet rounding. SM 2/3/17